Tracy & Cedric, Testimony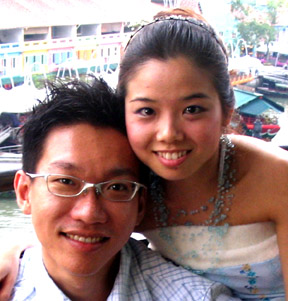 Tracy and Cedric are newly married and are living their life for Jesus. I have known Tracy for years and am getting to know Cedric. He is a real good man. God Bless Their Marriage, Ferd@2jesus

Cedric's Testimony

During this year at CNY, all of my colleagues had fallen seriously ill. Most of them took mc and had bad sore throat, fever etc. They were amazed that I was the only one not affected by the viruses. They even questioned why I wasn't sick. I know it is definitely Jesus shielding me from the flu virus. I want to thank God for protecting me with His precious blood. I can be healthy and stronger each day because I know what Jesus had done for me 2000 years ago. When I was feeling the lying symptoms, I choose to partake Holy Communion together with my wife. Then, I was ok again. Praise Jesus! We had not take panadols for the past 2 years. We also prayed and cover ourselves with the blood of Jesus daily. He is the same today, yesterday and forevermore. Amen!

p>Tracy's Testimony

I remembered Pastor Prince mentioned about having good opinion of Abba. In 2007, my company wasn't meeting the targets for that year. Therefore, there were rumors around the office saying that we will not receive our valuable bonus in 2008 and worst still retrenchment. Many of the colleagues were discouraged and down cast. However, I choose to believe in Abba's goodness and choose to have good opinion of Jesus. I refused to accept and allow the enemy to pull me down by the lies even when the surroundings appeared to be lousy.

During Dec, I had my year end appraisal. I thank God that I had a very understanding boss and he had given me a grade B instead of grade C. (This grade is only for supervisors and managers but I am not.) most of the staffs were only given a grade C. I was rejoicing and so thrilled by the result. The grade means how much valuable we will be receiving in 2008. Indeed, it's the favor of Jesus to me and I know I am the precious daughter of Abba and he had seen my work performance and rewarded me! What the enemy meant for evil God had make it good for me. I received my valuable bonus in 2008 despite all negativity and was able to share about His providence and love for me! Psalm 111vs 5 he gives food for those who fear him. I had also been eating and putting on weight.

Thank God that I had also not seen a doctor ever since last year June till now. My boss even commended about this as I used to be weak but now I am very healthy. During CNY; my sis Esther was running high fever for at least 3 days, I partook Holy Communion with her and my mom. At night, her high fever did not come back. It was totally gone and she was healed completely. Amen, thank you Jesus for healing her. This also strengthened their faith in Christ. I refused to believe that Abba will let us fall sick. I choose to believe who Jesus is so am I now on this earth. I am the righteousness of GOD and His blood protects me. Praise GOD!

Lastly, I also thank God for my Church Groop for their constant praying for Cedric and me. In all things, give thank to our beloved Jesus, Amen!