Divine Healing.
From: World Christian Doctors Network India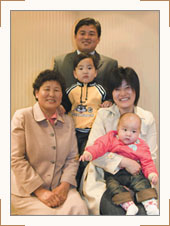 28 Jan, 2006
Jaewoo Kim (male, 8 months, Korean) sustained scald injury over left part of the scalp and face, by accidentally falling into a boiling oil fry pan.
The injury was so miserable that the skin of the young baby over the left side of the face was badly scalded and skin of the scalp and part of the forehead got peeled off. He could not open his left eye because of the swelling of both eyelids due to the injury. It was such a pathetic look because of the extensive scald injury over the complete left half of the face.
8 Jan, 2006 3 p.m.
Senior deaconess Kim (Grand mother of Jaewoo) poured Muan Miracle Healing Water over the injury and Played recorded prayer [ARS] of Rev. Dr. Jaerock Lee and the baby stopped crying. Praise God, for the baby obviously didn't show any sign of pain. There after, the baby was taken to Rev. Dr. Jaerock Lee, the senior pastor of Manmin Joong-ang Church (Founder of WCDN) for prayer in person.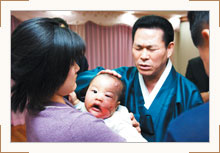 3 Feb, 2006 after 6 days
There was uniform scab formation all over the injury. God healed him very quickly New skin had grown up under the scab.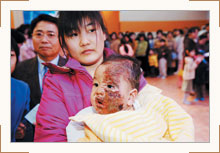 10 Feb, 2006 after two weeks
All the healthy scabs fell off except forehead area.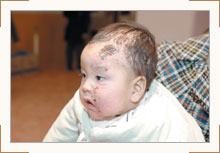 17 Feb, 2006 after 3 weeks
Even the scab over the scalp fell off and he had clear skin all over his scalp and face. He looked like as though he never fell into the fry pan. Praise and thanks be to our GOD.
Hallelujah!!!